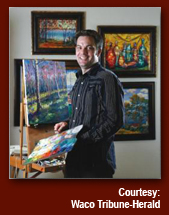 I graduated with a bachelor's of arts in English from Baylor University in 1994. While there, I edited the literary magazine and played in the Baylor Jazz Band.

Besides having my poetry published by such journals as StrangeHorizons.com, Alba Press, and Sidereality.com, I have edited a literary magazine for middle school students. I spent twelve years teaching eighth grade English at G. W. Carver Academy, winning such awards as the Waco ISD Teacher of the Year, KWTX Golden Apple, and Time Warner's National Teacher Award. I created Carver's Mock Trial of Lee Harvey Oswald and Carver's Mars Simulator and Museum as well as had the opportunity to fly a student-designed experiment aboard NASA's Weightless Wonder astronaut-training aircraft. Next year, I will be the instructional specialist at G. W. Carver Academy.

I have been oil painting since my time at Baylor and came under formal instruction with local artist Richard Skurla in 2004, studying still life, portraiture, and Plein Air. Mr. Skurla has assisted me in the use of pure color such as that of the Fauves, brushwork similar to Vincent van Gogh's, and construction of forms and principles as taught by New York City's Ashcan School artist John Sloan. Mr. Skurla adds:

"Jim has an expressive quality that demonstrates his desire to capture shape and form with an explosion of color and energetic brushwork. The mastery of his work reflects his passion for painting and a desire to invite viewers into his artwork and hold them there."

My work can be seen at the Silver Maple Gallery in Waco and in the Allen and Dawson dormitories at Baylor University. I have studied portraiture with Waco artist Tim Holden and have also taught art to teens through Calvary Baptist's Art Smart program.

I currently live in Hewitt, Texas, with my wife Jodi and sons Will and Ben.